The following are homilies, images, clipart, videos, toon and multimedia slides you might find useful for your celebration of the Fourth Sunday of Lent (Year C). In this Sunday's Gospel, Jesus tells a parable of a man who has two sons. The younger son demands his share of his inheritance and goes off to squander all his money to the point that he has to take work as a swineherd. When he comes to his senses he decides to return home. Upon his arrival, his father greets him with open arms.
READINGS
FIRST READING: Jos 5:9a, 10-12
PSALM: Ps 34: 2-3, 4-5, 6-7
SECOND READING: 2 Cor 5:17-21
GOSPEL: Lk 15:1-3, 11-32
VIDEOS
The first video can be downloaded here. If you don't know how to download videos from YouTube then follow this link to watch a tutorial.
The second video can be downloaded here and the third one here.
HOMILIES
A Love That Is Too Much to Take! [www.bible.claret.org]
The story leaves us with the message that there are two kinds of bad people. The bad bads are those who have fallen through human weakness and who eventually come to admit it and repent. The good bads are those who hold themselves up as paragons of virtue and who self-righteously reject the lesser mortals who are tainted by human weakness. Another shock! The Lord is much more partial towards the bad bads than he is towards the good bads. The people who get the worst press in the Gospels are the Pharisees who looked down on, and set themselves apart from sinners. Read more…
I will Arise and Go to My Father [dailyscripture.net]
In this parable Jesus gives a vivid picture of God and what God is like. God is truly kinder than us. He does not lose hope or give up when we stray. He rejoices in finding the lost and in welcoming them home. Do you know the joy of repentance and the restoration of relationship as a son or daughther of your heavenly Father? Read more…
Fourth Sunday of Lent [www.catholicmatters.com]
For the vast majority of us, Christians, our message of consolation and hope is in the first part of today's parable. All of us have, many a time, been prodigal, ungrateful, selfish sons of our loving Father. But he is still a Father of infinite love, of boundless mercy. He is not only waiting for us to return, like the human father in the story. He is continually sending out messengers to recall us and to help us on the return journey. Read more…
SLIDE PRESENTATION
The following presentation can be downloaded here.
GOSPEL TOON
By ReverendFun
IMAGES
To view and download their full size versions, please click on the images or the names of the artists/sources.
El Hijo Pródigo b by
lyceo_hispanico
Prodigal Son by
KassersMcfee
El Hijo Pródigo by
lopezroldan82
CLIPART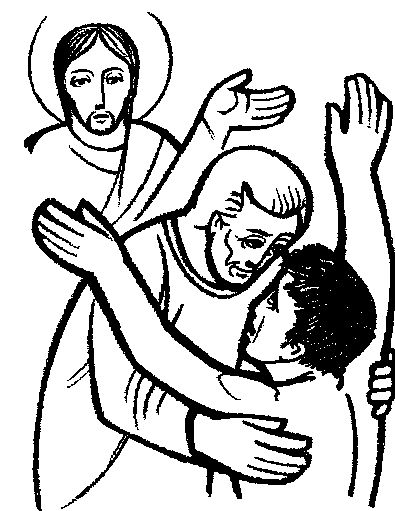 by Misioneros Del Sagrado Corazón (Perú)
by Maximino Cerezo