The following are homilies, images, clipart, video, toon and multimedia slides you might find useful for your celebration of Pentecost Sunday (Year C). The word Pentecost comes from the Ancient Greek "pentekoste" which literally means the fiftieth day. It commemorates the descent of the Holy Spirit upon the disciples of Jesus.
In this Sunday's gospel, Jesus came and stood in the midst of his disciples and said to them, "Peace be with you. As the Father has sent me, so I send you."
READINGS
FIRST READING: Acts 2:1-11
PSALM: Ps 104:1, 24, 29-30, 31, 34
SECOND READING: 1 Cor 12:3b-7, 12-13 or Rom 8:8-17
GOSPEL: Jn 20:19-23 or Jn 14:15-16, 23b-26
VIDEO
Source: http://vimeo.com/11058526
HOMILIES
Forgiveness and the Spirit Within [www.bible.claret.org]
What happened on Pentecost was similar to what happened in the battle between Goliath and David. The disciples of Jesus were looking for an external victory. They wanted Jesus to drive out the Roman occupying power and take over political supremacy. All they could see was external. But at Pentecost they became aware that the power was within, that the message of Christ was about internal attitude, it was about uniting and removing barriers of language and race and domination. Read more…
Receive the Holy Spirit! [dailyscripture.net]
God recreates us for his glory. Jesus' gift of peace to his disciples was more than an absence of trouble. His peace included the forgiveness of sins and the fulness of everything good. Do you want power to live a faith-filled life as a disciple of Jesus? Read more…
Pentecost Sunday [www.catholicmatters.com]
God the Father created us with the intention and plan to raise us up to adopted sonship with him. God the Son took human nature so that we might share in the divinity. Representing all men he gave perfect obedience and reverence to the Creator "even unto death on a cross," and thus merited sonship for us. The Holy Spirit, the "fruit of divine love," came from the Father and the Son to bring to perfection the work of our sanctification. Read more…
SLIDE PRESENTATION
Source: http://www.slideshare.net/happyfaith/year-c-pentecost-sunday-john-201923
GOSPEL TOON
Source: http://www.toondoo.com/cartoon/1761097
IMAGES
To view and download their full size versions, please click on the images or the names of the artists/sources.
As the Father Has Sent Me by
Fr. Stephen, MSC
Pentecost Theme Slide by
lars hammar
Pentecost Mosaic by
army.arch
Proclaiming the Power of Pentecost by
><((>
CLIPART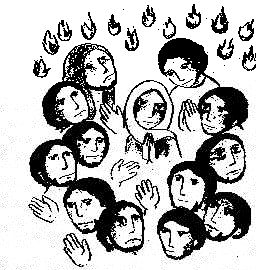 by Misioneros Del Sagrado Corazón (Perú)
by Maximino Cerezo