The following are homilies, images, clipart, videos, and multimedia slides you might find useful for your celebration of the Palm Sunday of the Lord's Passion (Year A).
Palm Sunday is the sixth and last Sunday of Lent and the beginning of Holy Week. It is considered a Sunday of the highest rank that not even a commemoration of any kind is being permitted in the Mass. In common law it fixes the commencement of Easter duty. For more detailed info about Palm Sunday please click here.
READINGS
FIRST READING: Is 50:4-7
PSALM: Ps 22:8-9, 17-18, 19-20, 23-24
SECOND READING: Phil 2:6-11
GOSPEL: Mt 26:14—27:66 or 27:11-54
LITURGIES
VIDEOS
Palm Sunday Video
Source: http://www.youtube.com/watch?v=Bq4YXDlRG34
Palm Sunday – God's Way
Source: http://www.youtube.com/watch?v=ALsCYnuzQOg
The Passion of the Christ – The Last Supper
Source: http://www.youtube.com/watch?v=ItcURbkjXOA
HOMILIES
"Blessed is the king who comes in the name of the Lord" [Daily Scripture Readings & Meditations]
Does the King of glory find a welcome entry in your home and heart? Jesus went to Jerusalem knowing full well what awaited him — betrayal, rejection, and crucifixion. Read more…
Passion (Palm) Sunday [Catholic Doors]
My brothers and sisters in Jesus, Christ died and lived again that He might be Lord both of the dead and living. [Rom. 14:9] As the Son of God, He atoned for your sins, my sins, our sins. He is your King, my King, our King. Read more…
SLIDE PRESENTATION
IMAGES
To view and download their full size versions, please click on the images or the names of the artists/sources.
Body of Christ by
Fr. Stephen, MSC
Palm Sunday 08 by
Waiting For The Word
Palm Sunday 05 by
Waiting For The Word
CLIPART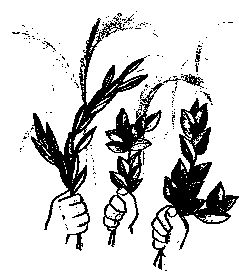 by Misioneros Del Sagrado Corazón (Perú)
by Maximino Cerezo