The following are homilies, images, clipart, multimedia slides and video you might find useful for your celebration of the Sixth Sunday in Ordinary Time (Year C). In this Sunday's Gospel, Jesus came down with the twelve and a large number of the people and proclaimed the beatitudes to them. The word "beatitude" comes from the Latin "beatus" and means "blessed" or "happy".
READINGS
FIRST READING: Jer 17:5-8
PSALM: Ps 1:1-2, 3, 4 and 6
SECOND READING: 1 Cor 15:12, 16-20
GOSPEL: Lk 6:17, 20-26
VIDEO
The video below can be downloaded here.
HOMILIES
The Blessing of Persecution [www.bible.claret.org]
As ever, Jesus gives the lie to many of our assumptions. He was the word become flesh and he entered a sinful community. By word and act he showed that he was on the side of the sinful. He said that sinners would be the first in his kingdom and he spent much of his time with people who were despised as sinners. His problem was with the self-righteous, self-sufficient and self-enclosing religious leaders who considered themselves above others and cut themselves off from those whom they called sinners. Read more…
Do Good to Those Who Hate You, Pray for Those Who Abuse You [dailyscripture.net]
Jesus showed his listeners how sorrow could be turned to happiness for those who truly wanted to live as free citizens of God's kingdom. Jesus' "beatitudes" both amazed and challenged his listeners to discover the true souce of happiness and joy. The word beatitude literally means happiness or blessedness. Jesus' way of happiness, however, demands a transformation from within — a conversion of heart and mind which can only come about through the gift of the Holy Spirit. Read more…
6th Sunday in Ordinary Time [www.catholicmatters.com]
No follower of Christ is forbidden to enjoy the legitimate joys of life, but every Christian must be prepared to accept life's pains and sorrows as well. We are pilgrims and strangers on this earth, making our way to heaven. The lighter our pack the easier and faster we travel. But there are cares and responsibilities, according to each one's vocation in life, which we may not and must not shirk. If we face these responsibilities honestly and cheerfully, realizing that they are the means by which God wishes us to gain our eternal reward, then they will be less burdensome and less heavy for us. Read more…
IMAGES
To view and download their full size versions, please click on the images or the names of the artists/sources.
Blessed are the Poor in Spirit by
loswl
Blessed are those Who Mourn by
loswl
Blessed are the Meek by
loswl
Blessed are they Who Hunger and Thirst for Righteousness by
loswl
Blessed are the Merciful by
loswl
Blessed are the Pure in Heart by
loswl
Blessed Are The Peace Maker by
loswl
Blessed are the Persecuted for Righteousness' Sake by
loswl
Blessed are You by
loswl
CLIPART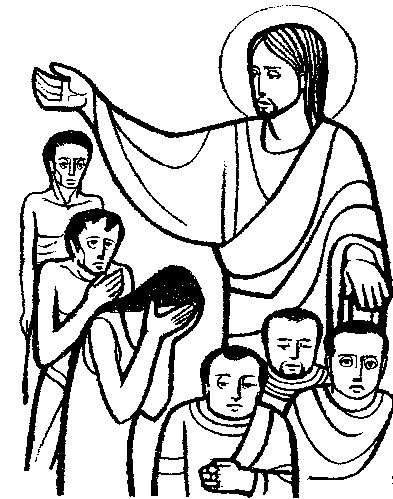 by Misioneros Del Sagrado Corazón (Perú)
by Maximino Cerezo
SLIDE PRESENTATION
The following presentation can be downloaded here.
GOSPEL TOON