The following are homilies, images, clipart, video, toon and multimedia slides you might find useful for your celebration of the Fifth Sunday of Lent (Year C). In this Sunday's Gospel, the scribes and the Pharisees brought a woman who had been caught in adultery and made her stand in the middle of the temple area. Jesus bent down and began to write on the ground with his finger and then said to them, "Let the one among you who is without sin be the first to throw a stone at her."
READINGS
FIRST READING: Is 43:16-21
PSALM: Ps 126:1-2, 2-3, 4-5, 6
SECOND READING: Phil 3:8-14
GOSPEL: Jn 8:1-11
VIDEOS
The video can be downloaded here. If you don't know how to download videos from YouTube then follow this link to watch a tutorial.
HOMILIES
You Must Feel Good to Become Good [www.bible.claret.org]
Most of us have been taught from childhood to feel bad about ourselves. We have been shamed into conformity and taught that we were bad if we did not perform as others expected us to. On the other hand Jesus loved all, irrespective of their behavior. He saw each person as good even if their behavior often left much to be desired. He was compassionately present to all. Read more…
Neither Do I Condemn You [dailyscripture.net]
This incident tells us a great deal about Jesus' attitude to the sinner. The scribes and Pharisees wanted to entrap Jesus with the religious and civil authorities. That is why they brought a woman caught in adultery before Jesus. Jesus turned the challenge towards his accusers. In effect he said: Go ahead and stone her! But let the man who is without sin be the first to cast a stone. The Lord leaves the matter to their own consciences. When the adulterous woman is left alone with Jesus, he both expresses mercy and he strongly exhorts her to not sin again. Read more…
Fifth Sunday of Lent [www.catholicmatters.com]
A second lesson for all of us in today's story is that we should try to imitate our divine Lord's mercy by being more merciful and more compassionate towards sinners. Too many of us are inclined to judge too harshly and heartlessly the neighbor whose sins happen to become public, whilst we minimize our own failings because they are secret. Read more…
SLIDE PRESENTATION
The following presentation can be downloaded here.
GOSPEL TOON
By ReverendFun
IMAGES
To view and download their full size versions, please click on the images or the names of the artists/sources.
Woman Caught in Adultery by
bondservant007
Christ and the Woman Taken in Adultery by
siritela
Adultery Woman by
luisa_gaina
CLIPART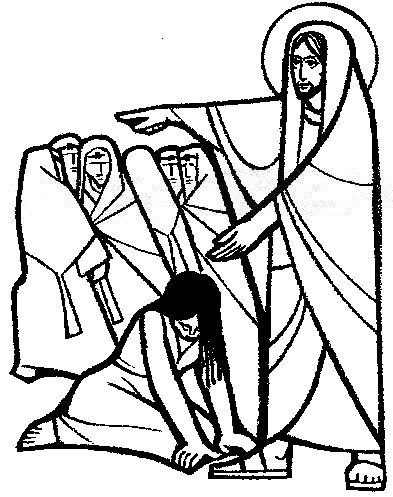 by Misioneros Del Sagrado Corazón (Perú)
by Maximino Cerezo