The following are homilies, images, clipart, videos, and multimedia slides you might find useful for your celebration of the third Sunday of Lent (Year A).
In this Sunday's Gospel, Jesus meets a woman at a well. Through her dialogue with Jesus the woman became convinced that Jesus indeed is the Messiah. Upon her return home the woman convinces many of her townsfolk about Jesus.
READINGS
FIRST READING: Ex 17:3-7
PSALM: Ps 95:1-2, 6-7, 8-9
SECOND READING: Rom 5:1-2, 5-8
GOSPEL: Jn 4:5-42
LITURGIES
VIDEO
Jesus Meets Woman at a Well
Source: http://www.youtube.com/watch?v=z7INnvnHrlg
HOMILIES
"Whoever drinks of the water that I shall give will never thirst" [Daily Scripture Readings & Meditations]
The image of "living water" is used throughout the scriptures as a symbol of God's wisdom, a wisdom that imparts life and blessing to all who receive it. "The teaching of the wise is a fountain of life" (Proverbs 13:14). "Living water" was also a symbol for the Jews of thirst of the soul for God. Read more…
Third Sunday of Lent [Catholic Doors]
From today's readings, we are reminded that as children of God, as members of the Body of Christ, we too have been called to do the Divine Will of He who has called us to share in the life-giving Spirit through faith in Jesus and the Sacrament of Baptism. Read more…
SLIDE PRESENTATION
Source: http://www.slideshare.net/happyfaith/year-a-second-sunday-of-lent-jn-4542
IMAGES
To view and download their full size versions, please click on the images or the names of the artists/sources.
Living Water by
Fr. Stephen, MSC
Jesus Speaks with Samaritan Woman by
tomfinken
CLIPART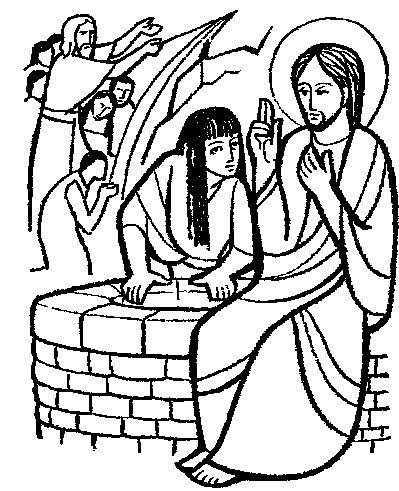 by Misioneros Del Sagrado Corazón (Perú)
by Maximino Cerezo