The following are homilies, images, clipart, video, toon and multimedia slides you might find useful for your celebration of the Third Sunday of Easter (Year C). In this Sunday's gospel, Jesus reveals himself again to his disciples at the Sea of Tiberias. After having breakfast with his disciples, Jesus asks Peter "do you love me" three times. And Peter's responds by saying "yes, Lord, you know that I love you." To which Jesus rejoins by saying "feed my sheep".
READINGS
FIRST READING: Acts 5:27-32, 40b-41
PSALM: Ps 30:2, 4, 5-6, 11-12, 13
SECOND READING: Rev 5:11-14
GOSPEL: Jn 21:1-19 or 21:1-14
VIDEO
The following video can be downloaded here. If you don't know how to download videos from YouTube then follow this link to watch a tutorial.
HOMILIES
From Competition to Contemplation [www.bible.claret.org]
When, after his resurrection, Jesus come back to the disciples he still loved them in spite of their abysmal performance. This unconditional love that Jesus showed for them as persons enabled them to see themselves, God and the world, in a new light. They were loved for who they were and not for what they did. This is the extraordinary quality of God's love and of all true love. Read more…
Jesus Revealed Himself Again [dailyscripture.net]
When Jesus asks him "do you love me more than these?" he may have pointed to the boats, nets and catch of fish. He may have challenged Peter to abandon his work for the task of shepherding God's people. Jesus also may have pointed to the other disciples and to Peter's previous boast: "Though they all fall away because of you, I will never fall away" (Matthew 26:33). Peter now makes no boast or comparison but humbly responds: "You know I love you". Read more…
3rd Sunday of Easter [www.catholicmatters.com]
The primary purpose in recounting this appearance of the Risen Christ to his Apostles, was to stress the actual conferring of the Primacy on Peter. From this very first meeting with Christ at the Jordan (Jn. 1: 42) the Savior had told him that his name Simon bar-Jonah would be changed to Cephas, which means Rock. Some year or so later, at Caesarea Philippi, this change took place when Christ said to Simon: "You are (Peter) Rock, and upon this Rock I will build my Church. . .and I will give you the keys of the kingdom of heaven" (Matt. 16: 18-19). Read more…
SLIDE PRESENTATION
The following presentation can be downloaded here.
GOSPEL TOON
By ReverendFun
IMAGES
To view and download their full size versions, please click on the images or the names of the artists/sources.
Follow Me by
Fr. Stephen
Feed My Sheep by
Roger Walton
Feed My Sheep by
Simon_K
CLIPART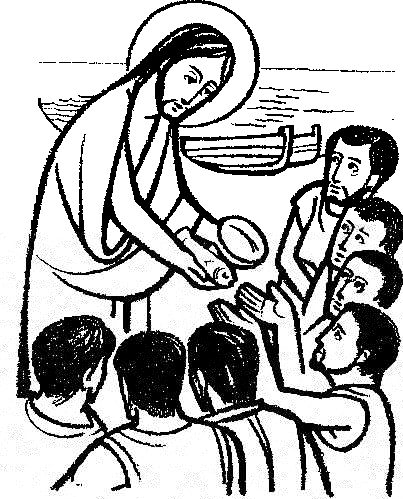 by Misioneros Del Sagrado Corazón (Perú)
by Maximino Cerezo