The following are homilies, images, clipart, videos, and multimedia slides you might find useful for your celebration of the second Sunday of Lent (Year A).
In this Sunday's Gospel, the Father declares that Jesus is His beloved Son, with whom He is well pleased. Ask yourself – am I worthy of being called a beloved child of God? Do I do the things that please the Father?
READINGS
FIRST READING: Gn 12:1-4a
PSALM: Ps 33:4-5, 18-19, 20, 22
SECOND READING: 2 Tm 1:8b-10
GOSPEL: Mt 17:1-9
LITURGIES
VIDEO
What is Lent?
Source: http://vimeo.com/19850374
HOMILIES
"This is my beloved Son; listen to him" [Daily Scripture Readings & Meditations]
The Lord Jesus not only wants us to see his glory – he wants to share this glory with us. And Jesus shows us the way to the Father's glory – follow me – obey my words – take the path I have chosen for you and you will receive the blessings of my Father's kingdom – your name will be written in heaven. Read more…
Second Sunday of Lent [Catholic Doors]
My brothers and sisters in Christ, today's three readings remind us that the Heavenly Father sent His only begotten Son, the Lord Jesus Christ, so we may be saved through the grace and mercy of a loving God who never abandoned us to sin and death. Read more…
SLIDE PRESENTATION
Source: http://www.slideshare.net/happyfaith/year-a-second-sunday-of-lent-mt-1719
IMAGES
To view and download their full size versions, please click on the images or the names of the artists/sources.
Beloved Son by
Fr. Stephen, MSC
Transfiguration of Christ, Raffaello Sanzio da Urbino, 1520 by
New Visions2010
CLIPART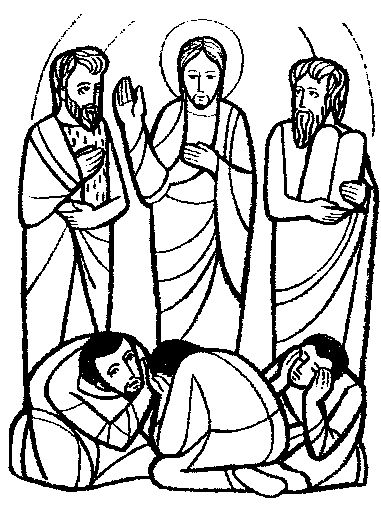 by Misioneros Del Sagrado Corazón (Perú)
by Maximino Cerezo