The following are homilies, images, clipart, videos, and multimedia slides you might find useful for your celebration of the Second Sunday of Easter (Year A).
In this Sunday's gospel, Jesus appears before his disciples and they rejoice upon seeing the Lord. At first Thomas could not believe that Jesus indeed rose from the dead, but when Jesus comes to him, he proclaimed, "My Lord and my God!".
READINGS
FIRST READING: Acts 2:42-47
PSALM: Ps 118:2-4, 13-15, 22-24
SECOND READING: 1 Pt 1:3-9
GOSPEL: Jn 20:19-31
LITURGIES
VIDEO
Gospel Of John – The Movie Part 18
Source: http://www.youtube.com/watch?v=T3hMWqazP5Y
HOMILIES
"Unless I see in his hands the prints of the nails, I will not believe" [Daily Scripture Readings & Meditations]
When Thomas recognized his Master, he believed and exclaimed that Jesus was truly Lord and truly God! Through the gift of faith we, too, proclaim that Jesus is our personal Lord and our God. Read more…
Second Sunday of Easter [Catholic Doors]
When Jesus said, "As the Father has sent me, so I send you." [Jn. 20:21] He was commissioning the Church through His disciples and their apostolic succession to perpetuate the work of Divine salvation that had been realized through His death and Resurrection. Read more…
SLIDE PRESENTATION
IMAGES
To view and download their full size versions, please click on the images or the names of the artists/sources.
Blessed Are Those Who Have Not Seen & Yet Believe by
Fr. Stephen, MSC
Peace Be With You by
Fr. Stephen, MSC
Doubting Thomas by
tito.shinyhead
CLIPART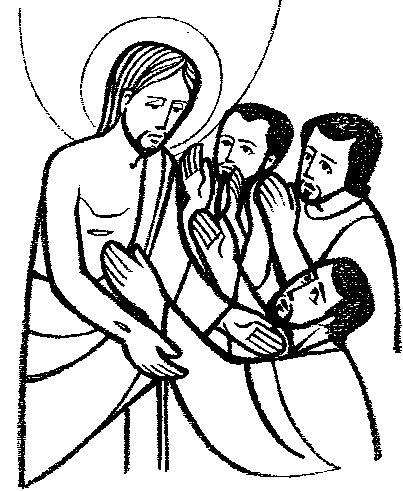 by Misioneros Del Sagrado Corazón (Perú)
by Maximino Cerezo