2nd Sunday in Ordinary Time: Homilies, Images, Slides and Videos
The following are homilies, photos, multimedia slides and videos you might find useful for your celebration of the Second Sunday in Ordinary Time (Year C). This Sunday's Gospel tells the story of the first miracle of Jesus in the Gospel of John. While Jesus was attending a wedding in Cana with His disciples He turned water into wine. Jesus performed the miracle to reveal His glory and that His disciples may put their faith in Him.
READINGS
FIRST READING: Is 62:1-5
PSALM: Ps 96:1-2, 2-3, 7-8, 9-10
SECOND READING: 1 Cor 12:4-11
GOSPEL: Jn 2:1-11
HOMILIES
IMAGES
To view and download their full size versions, please click on the images or the names of the artists. You may also find other images here and also here.
Water to Wine by
1ServantofJesus
The Wedding at Cana by
*Jeff*
Wedding at Cana by
Brush and Chisel
Jesus at the Wedding of Cana by
Loci Lenar
CLIPART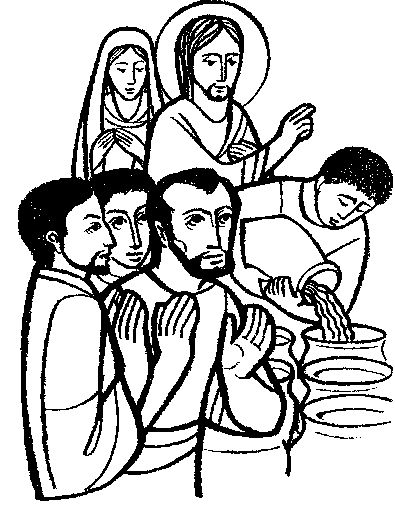 by Misioneros Del Sagrado Corazón (Perú)
by Koinonia
SLIDE PRESENTATION
The following presentation can be downloaded here.
VIDEO
The first video is a short clip from the movie "The Gospel of John" which shows Jesus performing His first miracle at a wedding in Cana. It can be downloaded here.
The video below is a song about the Wedding Feast at Cana where Jesus turns water into wine. The title of the song is "Do Whatever HE Tells You" and it is written and performed by Nick Cardilino. It incorporates clips from the Bible Jesus movie. It can be downloaded from this link.