The following are homilies, images, clipart, videos, and multimedia slides you might find useful for your celebration of the 14th Sunday in Ordinary Time (Year C).
In this Sunday's Gospel, Jesus said to His disciples, "The harvest is abundant but the laborers are few; so ask the master of the harvest to send out laborers for his harvest." He sent them on their way with the warning that they will be "like lambs among wolves."
READINGS
FIRST READING: Is 66:10-14c
PSALM: Ps 66:1-3, 4-5, 6-7, 16, 20
SECOND READING: Gal 6:14-18
GOSPEL: Lk 10:1-12, 17-20 or 10:1-9
LITURGIES
VIDEOS
Into the Harvest
Source:
http://www.youtube.com/watch?v=F94t_0uZDm4
Laborer
Source:
http://simplyyouth.worshiphousemedia.com/mini-movies/14828/Laborer
HOMILIES
The Harvest is Plentiful… [Daily Scripture Readings & Meditations]
When Jesus commissioned seventy of his disciples to go on mission, he gave them a vision of a great harvest for the kingdom of God. Jesus frequently used the image of a harvest to convey the coming of God's reign on earth. The harvest is the fruition of labor and growth – beginning with the sowing of seeds, then growth, and finally fruit for the harvest. Read more…
14th Sunday in Ordinary Time – Year C [Kairos]
Jesus again has to help them get the perspective right. It was not human success that mattered, but rather that their names were written in heaven. The challenge for us is to check our baggage and see whether anything is weighing us down and preventing us from experiencing the freedom that comes to the disciples of Jesus. Read more…
14th Sunday – Year C (July 4th) [Oxford University Catholic Chaplaincy]
There is enormous joy in being disciples of Jesus; but that does not mean that we live in a magic world which no pain ever approaches. Next Sunday's readings are all quite clear-eyed about the suffering that we can expect; but they know that it is not the end of the story, because God is in charge of our world. Read more…
SLIDE PRESENTATION
Source: http://www.slideshare.net/happyfaith/year-c-14th-sunday-ot
IMAGES
To view and download their full size versions, please click on the images or the names of the artists/sources.
The Harvest Is Abundant But… by
Fr. Stephen, MSC
Fields of gold… harvest by
spisharam – AWAY
CLIPART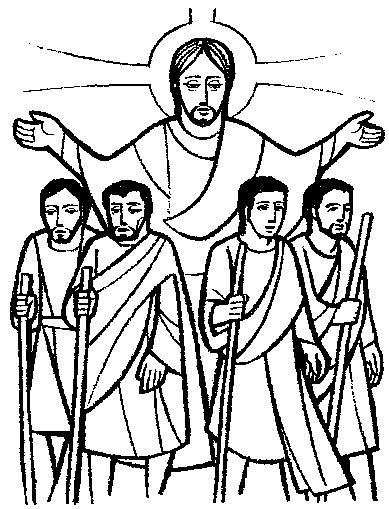 by Misioneros Del Sagrado Corazón (Perú)
by Maximino Cerezo